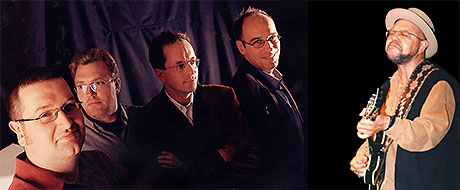 Blues for the 21. Century!
Blue Soul, the gentlemen around Michael van Merwyk, play their blues from down-to earth and grooving to distinctly swinging. They deliver a sturdy foundation for the top songwriter of modern blues. A concert to look forward to: Michael van Merwyk and Larry Garner are old friends and frequently get together to make music whenever Garner is in Europe.

Larry Garner, the guitarist from Baton Rouge, Louisiana is widely recognised as a prime songwriter. Today enjoying a worldwide reputation his career took off in Europe, much in a similar way as Luther Allison's did. Larry Garner had his great break-through in 1992 at the Burnley Blues Festival in the UK.
His modern style integrates elements from soul, funk and pop, while firmly rooted in the swamp blues of his origin. His fresh approach to the blues is just as noteworthy as his contemporary songs with their honest and emotional lyrics. Garner is an outstanding musician, poet and minstrel: Blues for the 21. Century!
Blue Soul:
Arndt Schlubach (drums)
Klaus Wagemann (bass)
Stefan Volpert (organ/piano)
Michael van Merwyk (guit./voc/lap-steel)