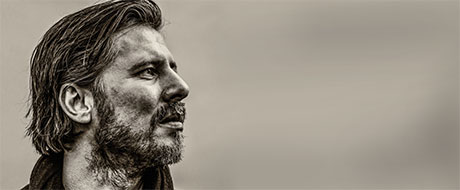 In the field of Belgian blues music, Guy Verlinde is their pride and joy. He has worked very hard for many years to get where he is today. It may be a bit of a cliche, but he has been called "the hardest working performer" of the Belgian blues scene.
Verlinde was born on March 22nd, 1976 in a small village near Bruges and started playing guitar and harp at the age of 16. His first band was called "Smokin' Chillums" and they played the blues clubs and festivals of Belgium and the Netherlands for six years. Due to his powerful performance Verlinde acquired the stage name "Lightnin 'Guy".
Over five years of soloing under his own name, Verlinde published six albums. He received the 2011 Belgian "Blues Award" and represented his country at the "European Blues Challenge" 2012 in Berlin. He has since made himself a name all over Western and Northern Europe.
In 2011 he founded Europe's first and only Hound Dog Taylor tribute band together with his accompanying musicians Erik Heirmann (drums) and Bart Mulder (rhythm guitar) to keep the heritage of this great musician alive. Currently he is mainly touring with his band "The Mighty Gators", but occasionally he is also performing as a "one man band", just him and a resonator and an old guitar case as a percussion instrument.
Worth mentioning is his "Blues in Schools Project", where he attempts to bring young people in contact with the blues music. Twice a month he organizes a blues jam session for young musicians in Ghent, where he lives.
Guy Verlinde's slide guitar- and harp are very emotional, unique and authentic. He sings with an expressive voice. His shows are always very energetic and almost overwhelming. As he puts it: "In a world of plastic and virtuality, people want real things."