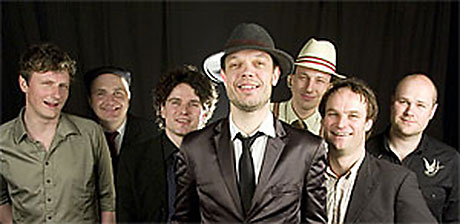 His name betrays his Scandinavian identity, but going by his voice and music you'd assume Thorbjørn Risager, the Danish singer, guitarist and composer, hailed from the deep south of the US.
Risager picked up the saxophone aged twelve, and later switched to the guitar. He studied at the famous Conservatory of Copenhagen. In 2002 he formed a Rhythm 'n' Blues band with seven musicians from the Copenhagen blues scene, who has been with him ever since, reinforced by Peter Kehl on trumpet, who joined a bit later. From December 2010 Peter Skjerning replaces Svein Erik Martinsen on second guitar and backup vocals.
For their debut album they called themselves "Thorbjørn Risager's Blue 7", now they are known by just the name of the front man. The band consists of two guitars, keyboards, saxophone, trumpet, bass and drums.
Thorbjørn and his band plays the traditional Chicago Blues, spiced with Soul, Funk and New Orleans Rhythm 'n' Blues. So far they have recorded five albums, the latest in 2010 called 'Track Record", and enjoy an excellent reputation throughout Europe.
Two musicians have had a particularly great influence on Thorbjørn; the singing of Ray Charles and the guitar technique of B.B. King have inspired his own music style. This, and his creative and versatile song writing skills have propelled the band to the forefront in the European blues scene.