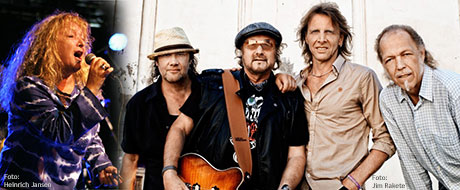 The Hamburg Blues Band (HBB) came to be after a jam session in "Onkel Pö" 1983. The last remaining founding member is Gert Lange on rhythm guitar.
The list of top tier musicians that has played alongside Gert in the HBB is long. Among them David "Clem" Clempson (Colosseum, Humble Pie), Alex Conti (Atlantis, Lake), and saxophone virtuoso Dick Heckstall-Smith (Bluesbreakers), to name a few. In the last few years the band sound has taken a noticeable turn towards psychedelic blues-rock, partly due to Miller Anderson taking on the lead guitar. On their homepage the band confesses that their blues "frequently staggers the purists". HBB combines tough guitar blues-rock with R&B, Boogie, Soul and the occasional psychedelic element.
The HBB core, beside the guitarist Lange, is Hans Wallbaum (drums), Michael "Bexi" Becker (bass) and Adrian Askew (keyboard). An unofficial "sixth member" behind the curtains is the songwriter Pete Brown, who has penned classics like "White Room" and "Sunshine of your Love" for Cream.
For their extended 30th anniversary tour HBB took on the Scottish singer Maggie Bell. Maggie has been in business for more than 55 years by now, with a career as a solo artist, in TV productions and in various bands. Most famous among the bands is probably Stone the Crows, whose saga ended tragically when the guitarist was electrocuted on stage in 1973. After spending 20 years in the Netherlands Maggie moved back to the UK in 2006 and joined The British Blues Quintet. Parallel to that she toured with Chris Farlowe and with The Manfreds. She was also part of the Jon Lord Blues Project, where Miller Anderson participated as well.
Miller Anderson has been touring with the HBB since 2012. We are particularly happy to finally greet him on stage at the Blueslawine, after the unfortunate cancellation of his planned performance at the 17th Blueslawine in 2011 due to a health issue. An attempt to list all the bands the Scottish guitarist has played in would be a daunting task, but to pick a few: The Keef Hartley Band, Savoy Brown and the Spencer Davis Group. Miller (born in 1945) began his musical career in the mid 60's and performed at the Woodstock festival 1969 with the Keef Hartley Band. His first solo album hit the shelves in the early 70's.
HBB's latest CD is "Friends for a LIVEtime", a compilation of performances over 30 years.
This will be one of the last opportunities to experience the band in this line-up – in the summer Miller will start touring with his own band again!