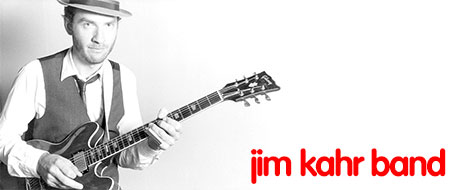 This sensational guitarist / vocalist hailing from the great city of Chicago presents his powerful Southside Urban Jam...an awesome refreshing creation of his own. This unique blend has reached far beyond any musical boundaries or limitations to date.
Jim Kahr is right in touch with the times while setting the pace for the future with his contributions. An accomplished songwriter and arranger as well, this gifted artist leaves his signature on each and every song performed.
Jim Kahr is an explosive artist indeed, cutting loose each time with remarkable expressions unleashing unforgettable guitar work and vocals! He has become a legend in his own time appearing on several albums (as featured guitarist) with other major recording artists.
Consistency has earned him devotion and respect amongst fans and fellow artists alike. He constantly receives outstanding reviews worldwide for his sensational efforts and his projection of true virtuosity.
Jimmy "Guitar" Kahr has toured and or recorded with numerous legendary artists including: John Lee Hooker, Bobby "Blue" Bland, Junior Wells, Charlie Musslewhite, Koko Taylor, Jimmy Rogers, Freddie King, amongst too many others to mention.
A true professional in every sense and meaning of the word – Jim Kahr simply sets the guitar on fire whenever and wherever he goes.
At the Blueslawine Jim Kahr plays with Denis Bildstein (drums), Alex Logel (Hammond, keys), Willy Wagner (bass) and Ulf Lenske (guitar).