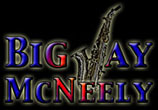 Born Cecil James McNeely in 1927, Los Angeles tenor saxophonist Big Jay McNeely is one of the pioneers of the wild, honking style of sax playing that emerged from dance halls during the late 1940's. Big Jay is best known for "Deacon's Hop", which reached number one on the R&B charts in 1949, as well as "Wild Wig" and "There is Something On Your Mind".
Los Angeles was a major player in the rise of early rock and roll. Big Jay was raised there by a musical family – two older brothers and both parents were so inclined. In high school, he played with a school band called "The Earls of [the class of] '44" (named for pianist Earl Hines.) Originally a scholarly music student, studying music theory and classic jazz, he happened to attend, in '47, Bardu Ali and Johnny Otis' new club in LA. called the Barrelhouse, a showcase spot for talent in the field of untamed music not yet called rock and roll.
What he saw there changed his ideas about how to please a crowd. The wild music, the rhythm, the frantic crowd screaming over turbocharged bands, with boogie pianists hammering away, trumpeters walking through the crowd blaring one-note rhythms, and sax men and women on their backs twirling in circles without missing a honk. Soon, he found himself honking thusly, and making a career of it. McNeely continued honking in this manner through the 50's and 60's, took a job for the Post Office in 1971, which he quit in 1983.
He is still playing rock and roll to the new crowd of kids whose parents were too young to know this type of music, still in top form.
The "Hall of Fame" honorary Cecil J. McNeely is supported by GREG´S BLUESNIGHT BAND with Gregor Hilden (g.), who has played in Big Jay's band for many years; Tommy Schneller (sax, voc.) who is a shooting star in the European festival scene with his own band Extravaganza; Horst Bergmeyer (organ, piano); the Blues Company bass player Olliver Gee; and Frank Boestfleisch, one of the best drummers in the vicinity.