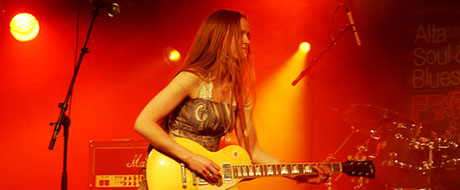 The young guitarist Gráinne Louica Duffy hails from Castleblayney, Co. Monaghan in Ireland.
She entered the stage in a band with her sisters while still at secondary school. She went on to graduate with a music degree from NUI Maynooth. Since 2007 she is pursuing a career as singer, guitarist and songwriter.
Her husky voice is often compared to that of Bonnie Raitt, who Gráinne cites as one of her influences. Others include Linda Ronstadt, Keith Richards, Peter Green, Bob Dylan and Fleetwood Mac. She describes her playing style as "a powerhouse of soul and inspiration mixed with desire and passion".
2007 she released the debut album "Out of the Dark", and was promptly invited to the acoustic stage at the Glastonbury festival 2008. She played three gigs that were "unforgettable", "magic" and "a highlight of her career so far".
Mike Hellier: " Her wonderful mix of blues rock and soul in her original material and her treatment of a few carefully selected standards charged with true emotion and feeling can win over any audience and leave you begging for more."
Chris Wilson: "I've been doing this for 25 years and I can't ever remember such an audience reaction. Most hadn't seen Grainne before and I think they were genuinely stunned at what they were witnessing, one chap was actually crying, he found the whole thing so emotional. I loved every minute and I'm difficult to please after all these years in the business. An amazingly tight band, lovely to work with, great atmosphere, a fantastic night that has to be one of our all time most memorable gigs.
Sunjay: " They were absolutely superb, the best band I think I've ever seen"
So far Gráinne has been a household name mainly in the UK, but now she is hitting the Continent with a vengeance.
Playing with her on the tour are Paul Sherry on Guitar, Davy Watson on Bass, Gerry Morgan on Drums and John McCullough on Keys.