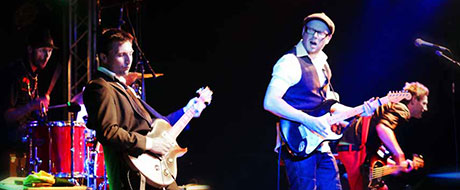 The quintet "Mojo Makers" is a young band from Copenhagen, Denmark. In 2013 they recorded their debut album "Wait till the Morning" and were promptly nominated for the Danish Music Award in the category "Best Blues Recording 2013". The band combines showmanship with masterful technique. In their short career they have already played their way through Europe and delivered peerless live shows. They mesmerize the audience with a solid rocking rhythm section and a charismatic lead singer. Their line-up:
Lead singer and guitarist Kasper Osman. He is said to be the new upcoming name on the blues scene in DK. With a soulful and wide ranged voice he delivers an intense experience. Although born and raised in DK many compare his tone and style with black singers from the west coast blues scene.
Lead guitarist Kristian Hoffmann. At an early age he was discovered at the prestigious Mojo Blues Bar in Copenhagen. The next 10 years the young prodigy got his education as a sideman and guest musician for a wide variety of famous blues musicians in Denmark who recognized his talent and took him under their wings. Few blues guitarists has a sound you recognize immediately. Kristian Hoffmann is one of them.
Keyboarder Lars Emil Riis Madsen. The pianist has developed into one of Europe's leading Hammond organist in just a few years. If you like the sound of a 70's Hammond and you haven't heard him yet, you are in for a special treat.
Bass player Kristian Bast. One of the secrets behind the Mojo Makers is its solid rhythm section. Many years of experience as well as a unique approach to the blues genre makes the drums and the bass groove lethal on the dance floor. Mojo Makers was founded to celebrate the blues as well as 'that' rhythm in the music. Together with Morten Hæsum, Kristian Bast delivers just that.
Drummer Morten Hæsum. Like Jimi Hendrix' drummer Mitch Mitchell, Morten Hæsum also has a background as a jazz drummer. In this cross field between blues and jazz he presents himself as an unpredictable and interesting musician. With a rock solid groove along with his many years as a sideman for a variety of artists, this drummer raises the bar for any rhythm section in the blues genre.
Their second album called "Devils Hands" was released in October 2014.