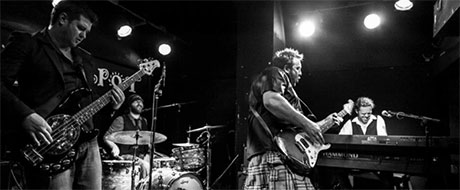 King King is a quartet with their base camp in Glasgow, Scotland. Playing in the band are Alan Nimmo (vocals, guitar), Lindsay Coulson (bass), Wayne Proctor (drums) and the Dutch keyboard virtuoso Bob Fridzema.
King King is strictly speaking no newcomer. Alan Nimmo is a familiar face in international blues circles (of "Nimmo Brothers" fame, together with brother Stevie), while Coulson, Proctor and the original keyboarder Bennett Holland are all first-rate musicians with pedigree and past.
This also explains the hordes of fans and the masses of awards after a mere five years of existence and three albums with killer songs, performed with true passion by a tightly knit band.
At the 2013 "British Blues Awards" they won "Best Album" for the CD "Standing In The Shadows".
In 2014 they topped that, winning in five categories, among them "Best Band" for the third consecutive year.
At the 2015 British Blues Awards, King King was introduced into the Hall of Fame, after winning "Best Band" over three consecutive years. Alan Nimmo won "Best Male Vocals" (beating Aynsley Lister) and placed second at "Best Guitar" (after Aynsley). The band drummer Wayne Proctor won "Best Drums".
For the current new album "Reaching For The Light" (May 2015), they will have to make space in their trophy cabinet.
With King King you get fantastic original songs mixed with killer covers. Blues-rock and rock 'n' roll with fiery guitar solos. Alan Nimmo has a rich and nuanced voice and great charisma.
In the UK the band is already a household name, and they have gained a firm foothold in the Benelux countries. Now they are going for the rest of Europe.
By the way: Bandleader Alan Nimmo performs in a kilt.