Good old house rockin' blues from Denmark!
The singer, songwriter and harp player Morten "Lightnin' Moe" Stenbaek and his band "the Peace Disturbers" plays Blues and American roots music. Their inspiration hails from the 50's Chicago blues scene, but also the influence of the funky 60's is present in their sound. The repertoire is mainly original songs, but the band always takes their time to pay their respect to some of the original creators of the blues.
The band's extensive touring through the past five years, paying their dues to the blues, has made them into a red hot burning rhythm combo, who always give the audience all they've got ­ and then some !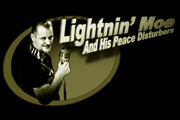 Lightnin' Moe and his Peace Disturbers:
Morten "Lightnin' Moe" Stenbaek (voc, harp)
Kasper "Lefty" Vegeberg (guit)
Peter "Planet" Dunvad (acc bass)
Tim "Jumpfoot" Petersen (drums)
"Should enter the world stage and if there is any justice conquer it."
Dave Thomas
Blues On Stage - USA

"One of the best European retro bands I've ever heard."
Detlev Högen
CrossCut Records - Germany

"This band kicks up real fuss, taking as their inspiration Little Walter, George Smith and Walter Horton, and recreating a nice 50's feel rarely heard in these digital days.
Legalise disturbing the peace!"
Juke Blues Magazine - UK

"Moe's vocal chops are keen and his harmonica tone is the beefiest around. These guys should tour the States."
Ed Ivey
Blues Revue - USA

"Great harp play with a classic big tone. A "pure in style" - band with a great swing and authentic sound"
Klaus Killian
Blues News - Germany