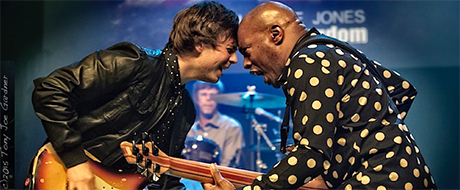 After his debut album "Thunder In The Sky" in 2012, 24 year old Laurence Jones from Britain was celebrated as the "head boy of the new breed".
At the 2016 British Blues Awards Laurence won "Guitarist of the Year" and entered the "Hall of Fame" for winning "Young Artist" three years in a row (2014 – 2016). His band was runner up in "Best Band" and Roger Inniss runner up in "Best Bass Player".
With his energetic shows Jones has conquered mainland Europe.
Traveling with the "Blues Caravan" he issued with German's "Ruf Records" in 2014 the album "Temptation", followed by "What's It Gonna Be" and in 2016 "Take Me High" supported on harmonica by the Bluesband's Paul Jones.
Mostly guitarist Jones is working in a trio with bassist Roger Inniss alternating with European or American drummers. Sometimes there is guesting Bob Fridzema from the Netherlands on keyboards. Producer's legend Mike Vernon is promoting and supporting Jones's career.
Modern and classic blues will be closing the 23rd Blueslawine in an impressive way.
Laurence Jones: vocals & guitar
Roger Inniss: bass
Phil Wilson: dr