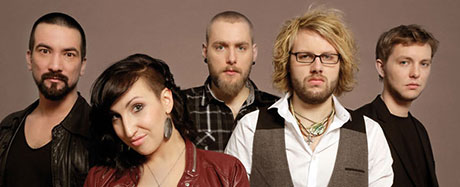 In 2012 the 24 years-old Jessy Martens from Hamburg gave her debut as songwriter on her fourth CD ("Brand New Ride"). Live on stage is the true habitat of this 1,52 tall power lady. Comparisons with Amy Winehouse, Bette Midler Tina Turner or Janis Joplin may be flattering, but she doesn't need them. The full charge of rock, blues, soul and tender ballads, presented with emotional depth, love for music, incredible energy and her overwhelming charisma mesmerizes the audience.
Little wonder, then, that she was awarded "Best Vocalist", her band "Best Band" and her songwriting debut "Best Album" at the 2012 German Blues Awards.
Her band features the 22 year-old guitarist Roman Werner, who plays with immense joy, virtuosity and feeling; Tom Rohloff on bass and Christian Kolf on drums, providing a groovy foundation and sparkling solos; and Jessy's long-time mentor, the "elder statesman" Jan Fischer on keyboard.