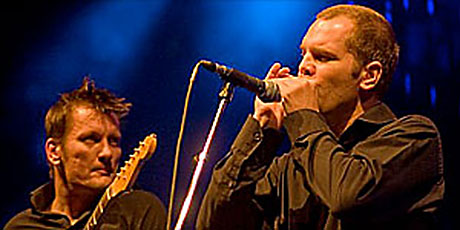 The Peter Nande Band hails from Denmark. Peter sings and plays the harp. He picked up this instrument in 1988 at the tender age of 16, after being inspired by the music of the duo Sonny Terry & Brownie McGhee, and both Sonny Boy Williamsons.
Nande has a rich voice and he plays a very versatile harp.
Playing in the band are the guitarist and co-composer Ronni Busack-Boysen, Peter Lapiki on keyboards, Henrik Poulsen on bass, and Tim Lothar Petersen on drums.
Tim Lothar is a familiar face at the Blueslawine. At the 10th Lawine in 2004 he played the drums with "Lightnin' Moe".
About that time he picked up a beaten dobro and is pursuing a very succesful parallel career playing the Delta Blues.