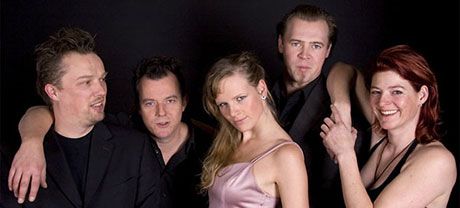 Anyone who has seen Bradley 's Circus on stage is convinced.
The young blues band from Tilburg, in the south of the Netherlands, claims to play "Contemporary Roots Music ". The band members are in their mid-twenties, the group was founded in 2006. This band is the opener of the 15th Blueslawine .
Up front are two exceptionally talented women: Mattanja Joy Bradleyon vocals and Lidewij Veenhuis on blues harp. At their side the highly creative guitarist André van den Boogaart, on stage known as "Jimmy The Lounge". Behind them on double bass Toine Stout and Beewee Nederkoorn on drums.
It gets really exciting when the blonde singer and bandleader Mattanja Joy Bradley comes to the fore. Where needed her voice is strong and powerful, or a mere sensual whisper.
Lidewij Veenhuis is one of the few female blues harp players of the Netherlands and perhaps all of Europe, who masteres the art of both ripping solos and supportive rhythms.
Occasionally the guitarist Jimmy The Lounge aka Andre van den Boogaart steps in front and gives his interpretation of blues standards and own songs.
The driving rhythmic force, as they say, is the base player Toine Stout ( also a great song writer) and the drummer Beewee Nederkoorn .
Bradley 's Circus published the CD "Live In Holland" in 2007 and "Shotgun Bunny" in 2008 .
Bradley 's Circus is young, fresh and wild. Come see them, come listen to them !